George Garrick spoke exclusively to GB News about how he burned fat and dropped 3st 8lb.
He noticed his weight creep up after his fitness regime went out the window during the coronavirus pandemic.
---
His weight hit 15st 5lb and the slimmer knew he had to make a change to get into shape for his daughter's wedding and after a comment from his son.
He told GB News: "Prior, I would just eat anything and not worry about it.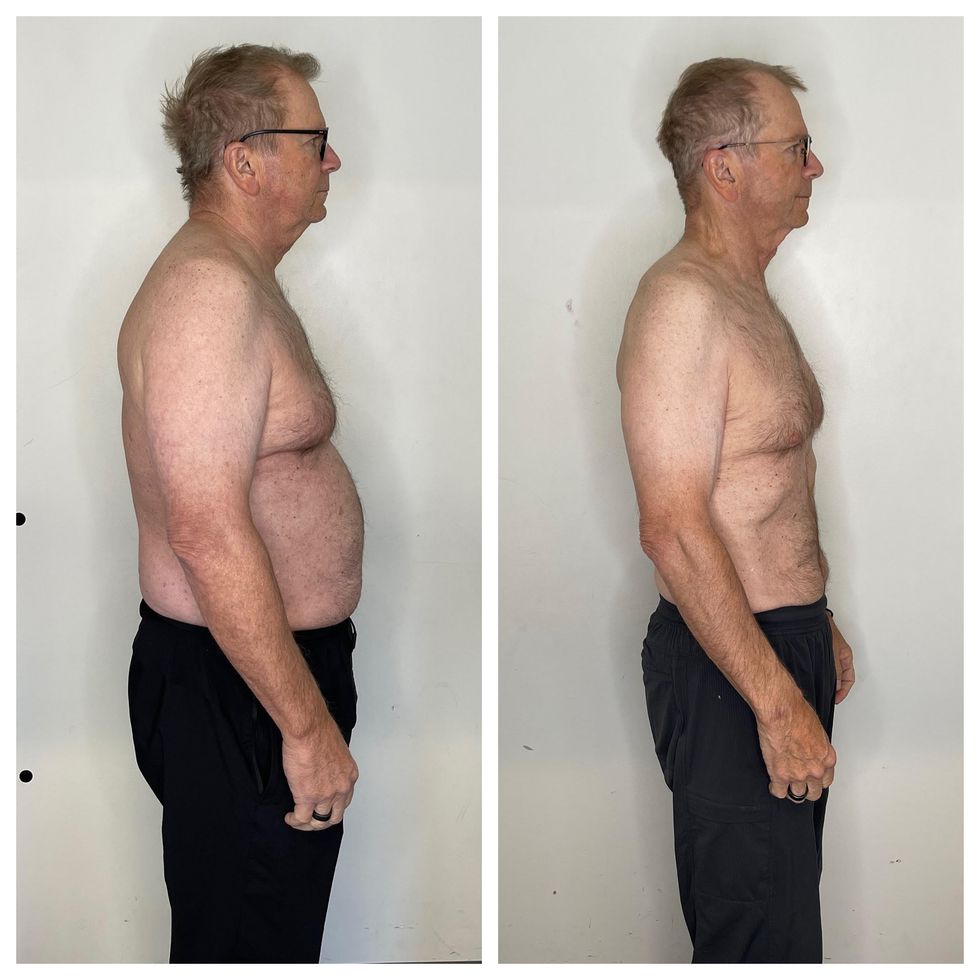 He focused on a healthy, high protein diet
UP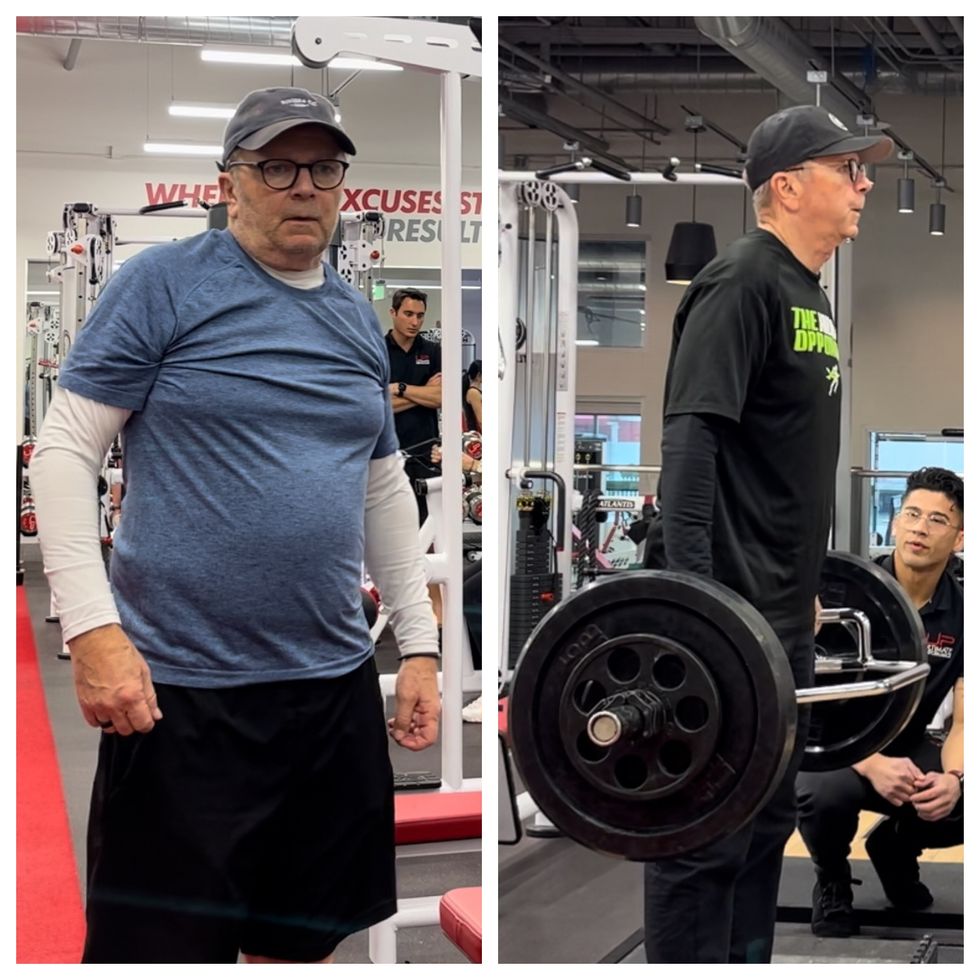 He was motivated to slim by his children
UP
"I knew I was adding weight but kept telling myself that I could always lose it whenever I wanted to.
"My blood numbers were all within range, and I had decent wind, but I knew I looked terrible and could not fit in most of my clothes anymore. One day, my oldest son said I looked like a seal.
"Not the special ops kind, but the chubby animal kind with the egg-shaped body.
"That really got me thinking that this had just gone too far. Once I decided I needed to transform, at the beginning of 2022, I concluded I needed to get onto a new and healthier program and stick to it.
"I decided I would really commit to a plan of regular workout sessions and a healthier eating program."
George opted for a balanced and maintainable eating plan rather than following an extreme diet.
He would fill up on plenty of healthy proteins and high fibre foods while limiting calories and cutting back on processed foods.
He also enlisted the help of personalised fitness plan service UP, working out three times a week. He focused on the lower body and core, with a bit of upper body.
George added: "I weighed myself daily so I could see my progress and relate my weight to my eating in the days prior. I soon learned how to manage my weight and how that correlated to what and how much I ate.
"I believe you must do this to change your nutritional and eating habits. Otherwise, it's too much guesswork and attempting to correct after the fact rather than manage it on an ongoing basis. Through a lot of analysis and research, and advice from UP, I now had a selection of foods that meet my numbers and that I enjoyed.
"This included the occasional cheeseburger and pizza, but also a lot of fruit, fibre and protein.
"I used supplements primarily for protein and fibre and I also started taking [greens supplement] AG1 so as to have sufficient nutrients. After about a month, I felt that I had a formula that worked, and my weekly decline in weight and increase in strength proved it."
The slimmer shared the importance of tracking his weight and strength to ensure he was progressing.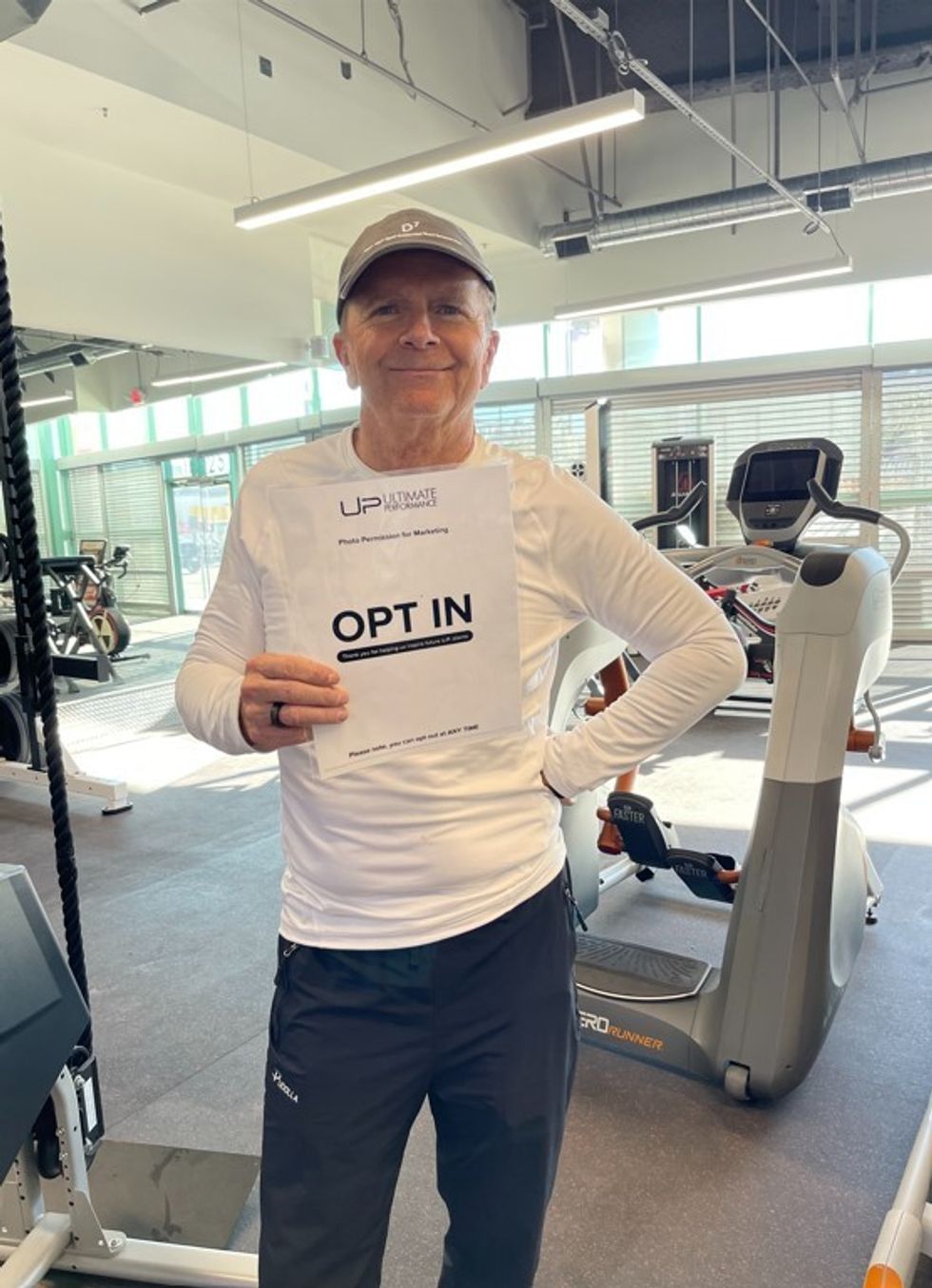 He lost more than three stone in total
UP
Within six months he had lost more than two stone and was full of confidence as he walked his daughter down the aisle.
He said: "I achieved exactly what I set out to do. I went from 215 to 175 in just over six months and was 175 when I walked my daughter down the aisle, wearing the same tux I'd worn three years earlier. And I felt great.
"I had plenty of energy all day long, never needed to take a nap, and enjoyed my new lifestyle since I figured out how to get my numbers by eating things I enjoyed, with an occasional splurge. After the wedding, I lost an additional 10 pounds, so I ended up getting down to around 165, where I am stabilised today and for the last six months or so.
"It requires no real effort anymore since it's now just my lifestyle and I believe I completely understand the relationship between what I eat, my exercise and calorie burn, and how those relate to my weight and body fat percentage.
"From January 2022 until mid-August, I went from 15st 5lb to 14st 7lb. So, I lost 2st 12lb.
"Then over the next month, I lost another 10 pounds and got down to 11st 11lb where I am now. So, in total lost about 3st 8lb. My body fat went from 34 per cent to 17 per cent.
"I could fit into all my old clothes, and almost everyone who knew me would comment on how good I looked and ask how I did it. I felt great, and it has now become a new lifestyle, not what you'd call a 'diet'."
George shared he feels better than ever after reaching his goals and discovering a lifestyle that worked for him.
He added: "I would say all of this comes with being in better shape, looking fit, fitting into clothes of the size you should be wearing, and being able to do physical activities much more easily. Today, I would put myself up against any typical dad who is 15 years younger, and in most cases, I would win."
George's inspiring story comes as a 59-year-old shared her transformation after losing more than a stone in four months.
Another slimmer shared her story after she used F45 to burn fat and lose weight.