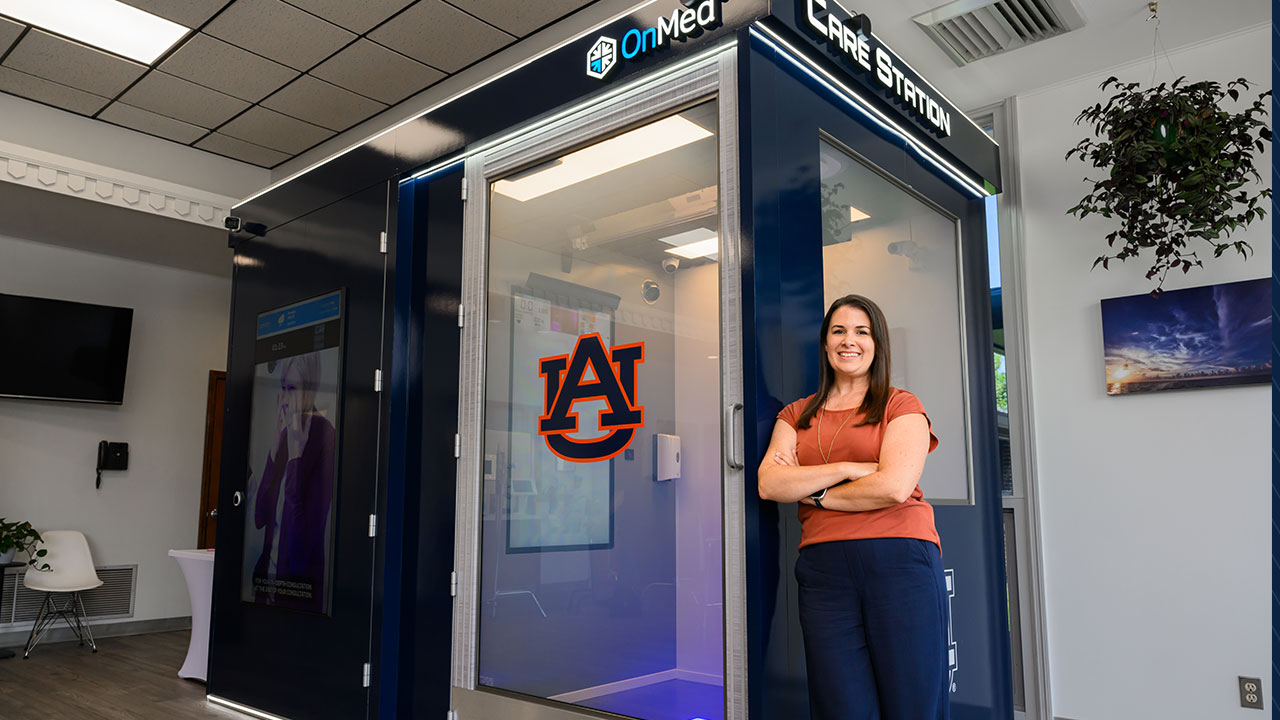 Rachel Snoddy, Alabama Extension Coordinator for Chambers County, is at the Chambers County Community Health and Wellness Center where the OnMed Care Station is housed to provide county residents with access to health care.
The future of health care is here for residents of rural Chambers County. A multidisciplinary program at Auburn University — and an innovative virtual care station offered by OnMed — are providing better access to quality health care for a community in need.
The Alabama Cooperative Extension System, Auburn Outreach and the Auburn colleges of Pharmacy, Nursing and Human Sciences have teamed up with leaders from the City of LaFayette and Chambers County, Alabama, to provide the facility. Through the OnMed Care Station — one of only four of its kind in the U.S. — residents can experience affordable, private and real-time visits with Alabama licensed health care professionals in a virtual setting.
"The installation of an OnMed Care Station signals a new day in health care for our community," said Rachel Snoddy, Alabama Extension coordinator for Chambers County. "Patients can expect quality care without the long waits at a doctor's office, and prescriptions will be sent immediately to their pharmacy. The improved access will change the health of our citizens for the better."
LaFayette currently has no urgent care facility, and the nearest hospital is a 30-minute drive. The OnMed Care Station — located in the Chambers County Community Health and Wellness Center — is part of Auburn's Rural Health Initiative. The center is available to community members for convenient access to affordable primary care, including diagnosis, referrals, prescription and treatment options.
"Our collaborative team is thrilled with the opportunity to support the health of the Chambers County community based on the feedback we have received directly from the community members themselves," said Hollie Cost, assistant vice president of University Outreach and Public Service. "Residents throughout the area have indicated a need for greater access to health care, as well as health and wellness programming and information during extended hours. This new center is positioned to honor those needs and wishes with additional services being added as our faculty and student engagement expands."
The new center provides Auburn students and faculty from different disciplines the opportunity to support community members' overall well-being. Nursing students support diabetes management and asthma education; pharmacy students will provide medication management education; and students in human sciences will have the opportunity to develop and implement community-based nutrition education programs.
Linda Gibson-Young, professor in Auburn's College of Nursing, said the new health care center and residents benefit from the synergy among the Auburn units involved. "This site is a connector between Auburn University and the community to engage all in health and wellness conversations," she said. "Nursing students benefit by collaborating with the other disciplines in a rural environment."